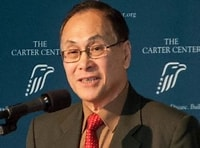 Henry Yu, a seasoned and retired banker of 37 years, is a global executive having covered Emerging Markets and developed countries. Henry has had an excellent banking career, involved in domestic banking, international banking, and cross border trade and investments. Henry concluded his banking career in 2015 when he was Managing Director of the Global Financial Institutions of Fifth Third Bank. Henry was COO of Asian Investors Consortium from 2016-2018 engaging in Private Equity Fund investing in Asia.Not a typical banker, Henry has coverage of major areas of banking including domestic and global lending, foreign bank relationship management, credit administration, compliance, import/export financing, trade banking and finance, treasury management, retail administration, domestic and international operations, investment banking (asset securitization-CDO & CLO, IPO, M&A), and wealth management (structuring and distribution).
In addition to having domestic corporate client relationships, Henry has managed customer relationships (companies and financial institutions) in most Emerging Market economies. Originally from HK, Henry is well-versed in business with and in Asia. He is a well-rounded banker having been involved in Investment Banking (IPO, M&A, Asset Securitization), Commercial and International Multinational Lending, Treasury Management, Credit Administration, Compliance, Foreign Bank Relationship Management, Trade Finance, Global Supply Chain, and Fintech. Mr. Henry Yu is an Advisor of Century Green Consortium, LLC.
Henry Yu is also an avid volunteer promoting U.S./China and U.S./Emerging Markets business relationships and transactions. Through Henry's 30 years of coverage on Emerging Markets, and in particular Greater China and Asia, he is a frequent speaker and lecturer on Asian/U.S./China business to universities in Georgia (Emory University, Georgia Tech, Georgia State University, Kennesaw State University, Wesleyan College, Memphis University, Florida International University and Vanderbilt University), and universities in China, namely Sichuan University, Suzhou Institutes, Jiliang University, Beijing Language and Culture University and Jinan Universities. Henry is continually active as a volunteer promoting business between Hong Kong/Asia and the U.S. His current affiliations include President of The Hong Kong Association of Atlanta; Chairman of The National U.S. Hong Kong Business Association (Atlanta is one of 12 chapters); Advisory member of Global Commerce of the Metro Atlanta Chamber; Board of Director and Chair of Audit Committee of a Chinese EV firm listed on NASDAQ; Senior Advisor of AsiaPlus Capital Limited, an investment and M&A firm based in Shanghai covering Asia.